Permissions Helper
Overview
The schedule permissions helper lets you quickly see what you can and can't do on a schedule.
It distills the myriad of FoxOMS settings, permissions and access controls into an easy to read menu and is a great tool to understand why some action may not be working as expected.
Using the tool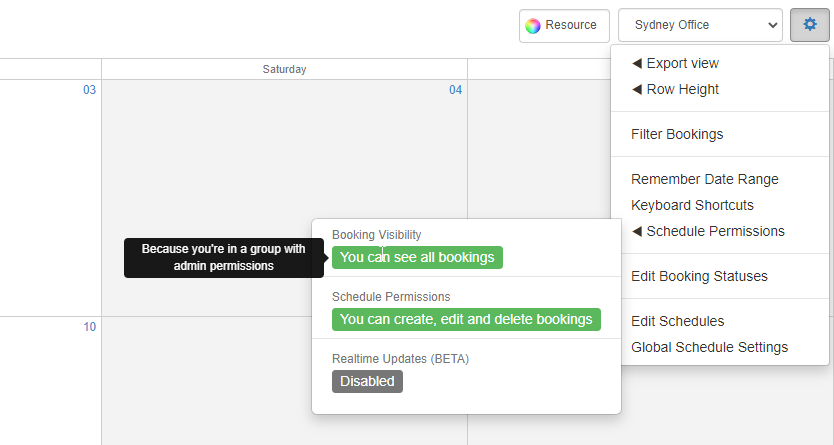 To open the permissions helper, click the cog menu in the top right corner of the schedule, then click Schedule Permissions. A menu expands with several sections, each with a label detailing the permission.
Hovering over the label, reveals a tooltip explaining why this permission or setting is being enforced.
Booking Visiblity
This section tells you if you can see all of the bookings on the schedule, or if some have been filtered from your view due to some schedule configurations set by an Administrator.
Schedule Settings
This section will appear if the option to 'only load bookings dependant on if they have a resource on the schedule' is enabled.
Schedule Permissions
This section details what level of 'write' access you have on the schedule, that is can you create, edit or delete any bookings, or perhaps only in certain instances.
Realtime Updates (BETA)
Here you can see the actual status of the 'Realtime Updates' feature of the schedule.
Realtime Updates will show as disabled if you have restricted access to the schedule or its bookings, or if the entire realtime updates feature has been disabled by your administrator
Summary
The permissions helper tool is super useful for troubleshooting why a user or group is seeing a certain behaviour on the schedule.
If you're contacting the support team regarding an issue with the schedule, it is a good idea to include a screenshot of the permissions helper tool with your ticket.