Previewing Bookings
Quick Info Panel
The Quick Info panel is the fastest way to get a brief overview of some information contained in the booking, without needing to open the booking in the editing sidebar, or the Booking Preview window.
To open the Quick Info Panel, single click on the booking.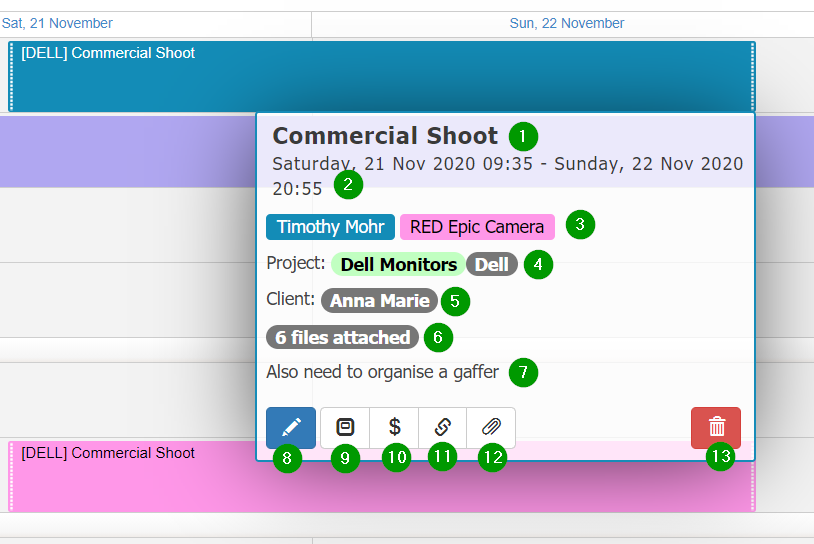 The quick info panel is made up of several elements that are numbered in the screenshot above:
Booking Name
Start / End Date & Times
Resources
Project Name / Project Client (only shown if different to booking client)
Booking Client
Number of files attached
Booking Notes
Edit Button (opens the editor sidebar)
Booking Preview button
Work order Button
Booking Shareable Link Button
Booking File Attachments Button
Booking Preview Window
The booking preview window is a great way to visually get a complete run down on all the information a booking contains.
To open the Booking Preview window, please single click on the booking to open the "Quick Info" panel by 'single left clicking' the booking and then clicking the Booking Preview button as shown in the screenshot below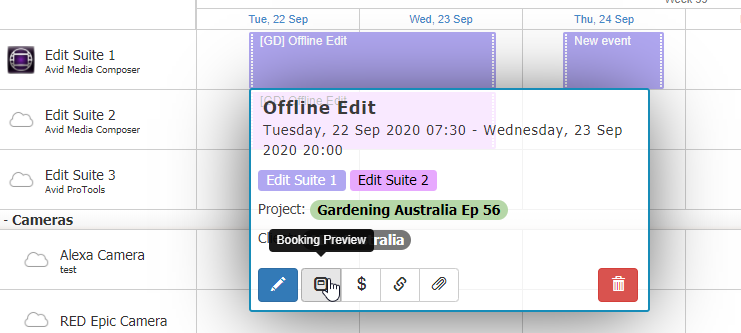 The booking preview window contains a summary of the entire booking including the
Booking Name
Unique Identifier (UID)
Summary of start and end times with total duration
All booked resources
Project Information
Client Details
Custom field data
Quotes & Invoice